Introducing our 2022 - 2023 fellows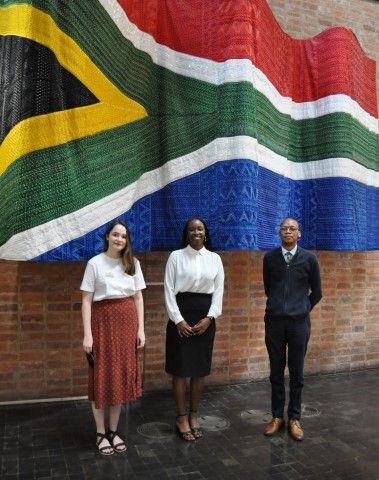 The Constitutional Court Trust has recently awarded three fellowships for the 2022 - 2023 academic year.
The Franklin Thomas Fellowship, funded by the Ford Foundation in honour of their first Black president, Franklin Thomas, is intended to benefit promising young Black South Africans who have clerked at the Constitutional Court of South Africa by providing them with the opportunity to study towards a one-year LLM at a well-respected law school in the USA.
Natasha Dusabe, former clerk to Justice Mhlantla, and Tshepo Skosana, current clerk to Acting Justice Madondo, will be the Franklin Thomas fellows for 2022 / 2023.
The Pius Langa Memorial Fellowship, funded by the South African Constitutional Court Trust - United Kingdom, was established in 2021 to provide one early career lawyer who has clerked at the Constitutional Court or is working in civil society in South Africa to study towards an LLM at University College London (UCL) in the United Kingdom, one of the top ranked universities in the world.
Mila Harding, a legal researcher working on the right to education at the non-profit organisation SECTION27, has been awarded the inaugural Pius Langa Memorial Fellowship.
> Learn more about the CCT's fellowship programmes
Natasha Dusabe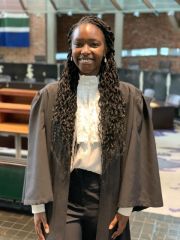 Natasha Dusabe holds a Bachelor of Social Science (Politics) and a Bachelor of Laws from the University of Cape Town. She served her articles at Cliffe Dekker Hofmeyr Inc and was admitted as an Attorney of the High Court of South Africa in 2020. She recently completed her clerkship at the Constitutional Court in Justice Mhlantla's chamber. Natasha's academic interests focus on administrative law, particularly the use of administrative law in enforcing socio-economic rights and encouraging transparent, accountable and effective governance. Natasha says:
"I have a keen interest in meaningfully contributing to the South African legal profession, particularly to our public law jurisprudence and public policy. As a young South African, I remain endlessly optimistic about South Africa's future. Obtaining an LLM in the United States will not only upskill me and give me additional tools to contribute to the South African legal profession, it will also provide me with a nuanced, global and comparative lens through which to engage with public law and public policy in South Africa."
Tshepo Skosana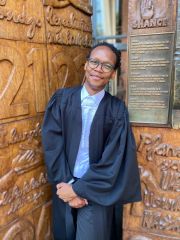 Tshepo Skosana is currently a Law Researcher at the Constitutional Court to Acting Justice Mjabuliseni Madondo and former Chief Justice of the Republic of South Africa, Mogoeng Mogoeng. During his time at the Court, he also clerked for Justice Johan Froneman and Acting Justice Rammaka Mathopo.
He completed his articles of clerkship at the Socio-Economic Rights Institute of South Africa (SERI) and his Bachelor of Laws and Master of Laws at the University of the Witwatersrand, Johannesburg. Tshepo has a steely sense for social justice and is dedicated to challenging societal norms and seeking an equal society for all based on human dignity.
"I am grateful to the Constitutional Court Trust for awarding me the fellowship. The opportunity to be a Franklin Thomas fellow will not only help me to improve my education, but enable me to follow in the footsteps of Mr Thomas to continue using my talents and knowledge to help other people."
Mila Harding

Mila Harding is a legal researcher in the Education Rights programme at the public interest law organisation SECTION27. Mila has completed a Bachelor of Arts degree majoring in politics, international relations and law, as well as an LLB from the University of the Witwatersrand.
She has written numerous articles which have been published in various mainstream media outlets and exhibits a deep commitment to human rights and social justice, and is dedicated to using the law as an instrument to further these objectives.
Former Chief Justice Pius Langa lived a remarkable life in which he demonstrated a relentless commitment to advancing democracy, human rights, and social and economic justice in South Africa. I feel honoured and deeply grateful to be awarded the Pius Langa Memorial Fellowship and thank the Constitutional Court Trust for this opportunity. Through my studies and career I aspire to promote a more just society, as envisaged by the Constitution and which the Former Chief Justice Pius Langa advocated for – one that espouses respect for human dignity, substantive equality, and healing from the fractures brought about by oppression.