Curatorial Internship Opportunity at the Constitutional Court Trust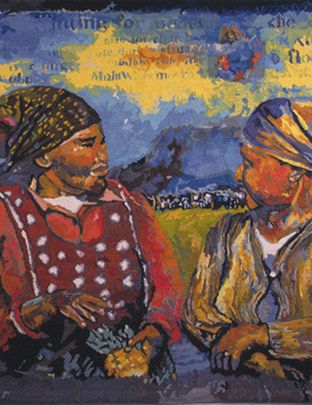 The Constitutional Court Trust (CCT) is looking for recent South African graduates with a keen interest in visual art and justice in South Africa to apply for a full-time internship opportunity working on the Constitutional Court Art Collection (CCAC) at the CCT.
Deadline: 7th June 2019
Duration: 6 months on a full time basis (July - December 2019)
Location: The Constitutional Court, Johannesburg
ABOUT THE CCT
Established soon after South Africa's transition to democracy, the Constitutional Court Trust (CCT) exists to promote human rights, the rule of law, constitutionalism and judicial independence in the African region - with a special focus on the Constitutional Court of South Africa. It does so through artistic expression, legal scholarship and exchange programmes, public education and library initiatives.

The CCT is the custodian of the Constitutional Court Art Collection (CCAC), a unique collection of predominantly South African artworks, many of which are internationally acclaimed, that stimulate and enrich education, critical debate and research on the transformative role of the Constitution and the Constitutional Court of South Africa, based on the values of freedom, dignity and equality.
To learn more about the CCAC, go to http://ccac.org.za
ABOUT THE INTERNSHIP
The curatorial internship at CCT is aimed at developing learning opportunities within the fields of art administration, curatorship, cataloguing and research. The focus of the internship will be in the following areas, amongst others:
• Assisting with the rotation of artworks within the public gallery, and private areas of the Court;
• Maintaining and organising records relating to artworks, and contributing to quarterly reports;
• Undertaking basic cleaning and organising of artworks on display and in storage;
• Conducting research, and drafting web stories on artists whose works are a part of the CCAC;
• Contributing to public engagement activities, including monthly Art & Justice tours, tours with Court staff and guests, openings and events.
WHO IS ELIGIBLE TO APPLY
In order to be eligible for the curatorial internship, applicants must:
Hold a qualification in visual arts or heritage (or a related qualification that you are able to motivate relates directly to this internship);
Be a South African citizen under 30 years of age;
Be able to commit to a full-time internship of six months in duration;
Be recently graduated with no prior full-time work experience – preference will be given to applicants who have not previously benefited from an internship opportunity within a gallery or museum environment;
Have a demonstrable interest in art and justice and an interest in advancing constitutionalism through creative expression;
Have an understanding of the need for careful handling of museum material and artefacts;
Be fit and able to move and hang artworks;
Be able to plan, prioritise work, meet deadlines, and work independently;
Be systematic and thorough in approach to work, with excellent attention to detail;
Be competent in Microsoft Office software;
Be proficient in English.
HOW TO APPLY
Please prepare and submit the following by email to curator@concourt.org.za on or before 7 June 2019:
A one page motivational letter that describes the relationship between art and justice, specifically relating to the Constitutional Court Art Collection (no more than 300 words);
Your CV (no longer than 2 pages) and the contact details for at least 2 referees;
The subject line of your email must include: Curatorial Internship 2019 – [Your Full Name].
Only complete applications submitted through the above email address as directed will be considered. Only short-listed candidates will be contacted.

Interviews will be conducted at the CCT offices in the Constitutional Court, Johannesburg on 19 June 2019. The successful candidate must be able to start on 1 July 2019.