Announcing Franklin Thomas Fellows for 2021 - 2022 - ANDISIWE SIPAMLA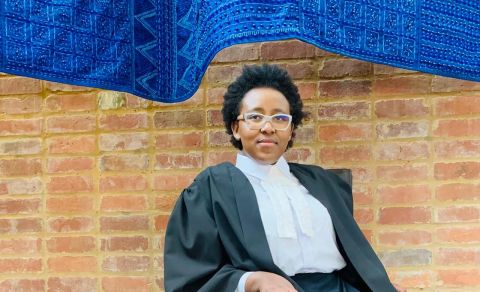 The Constitutional Court Trust has recently awarded two Franklin Thomas fellowships for the 2021 - 2022 academic year to current clerks, Rushaan Lewis and Andisiwe Sipamla.
The Franklin Thomas Fellowship, funded by the Ford Foundation in honour of their first Black president, Frankin Thomas, is intended to benefit a promising young Black South African who has clerked at the Constitutional Court of South Africa by providing the fellow with the opportunity to study towards a one-year LLM at a well-respected law school in the USA.
Andisiwe Sipamla is a recently admitted attorney of the High Court of South Africa working as a Law Researcher at the Constitutional Court of South Africa. She holds LLB (summa cum laude) from the University of the Western Cape. Before her current stint clerking in Justice Majiedt's chambers, she served her articles of clerkship at Bowmans.
Andisiwe says:
"The Thomas Franklin Fellowship will enable me to take on my next conquest, which is to obtain a LLM in Human Rights from a United State university. The knowledge and skills I will acquire from the LLM will be used as an instrument to break systematic barriers that continue to perpetuate social injustice in our country, and to empower the black community."
Related entries